The AR-15 is a favorite firearm among the American firearm enthusiast community. It is a surprisingly diverse family of military-style rifles and pistols. Depending on your budget, there is probably an AR-15 for you.
AR-15-style firearms range in price from the low $500s to over $2500. The main characteristics varying with price are the brand, operating system, included accessories, materials, and simple supply and demand. While they look similar, AR-15s are not all the same.
I recommend buying firearms, ammo, and accessories at a reputable dealer, like my top pick, Palmetto State Armory. They are well-respected in the community and provide a 100% lifetime warranty on every weapon they sell.
This article will explore the differences between inexpensive and expensive AR-15s and answer some frequently asked questions about this family of firearms.
5 Factors Affecting AR-15 Cost
There are (at least) five factors that affect the cost of an AR-15 type firearm:
Brand
Operating System
Receiver Material
Included Accessories
Economic Forces Of Supply And Demand
1. Brand
Firearms are a consumer good, and like all other consumer goods, some brands are more desirable than others. Higher-end brands can generally charge more for their weapons regardless of quality.
In the AR-15 and wider firearm enthusiast community, the most popular brands of AR-15 include Bravo Company, Daniel Defense, FN Herstel, AmarLite, Colt, and Smith & Wesson.
Several of these are represented in my selection lower down.
Related Choosing Your Best Rifle for 300 Yards (Or Greater).
2. Operating System
According to federal law, no commercially available firearm can be fully automatic. Legally, the "best" firearm you can get is semi-automatic. There are several ways to make a semi-automatic firearm, and the method used in a particular firearm model affects the price.
Two operating systems are used in commercially available AR-15s: direct impingement and gas piston.
There is a lively debate in the AR-15 enthusiast community over which system is superior. The systems are more or less equally reliable. Direct impingement AR-15s are more common and typically less expensive than the gas piston system.
Direct Impingement
The original AR-15 invented by Eugene Stoner, used a direct impingement system. To this day, direct impingement weapons make up the majority of the AR-15 market. These weapons are seen as more traditional, and spare parts are much more readily available.
Also called "direct gas impingement," weapons using this system bleed a small amount of the gas produced by the burning propellant (gunpowder) to drive the firearm's action.
The bled gas is channeled down a thinner tube towards the rear of the firearm, where it runs into the bolt carrier assembly and drives it backward. The gas is exhausted when the bolt carrier reaches the end of its stroke.
Gas Piston
The use of gas piston actions in AR-15s is a more recent innovation. The mechanisms were originally invented by the Soviets and used in the AK-47.
A gas piston mechanism bleeds a small amount of propellant gas out of the firearm's barrel and channels it into a spring-loaded piston assembly. The piston drives the bolt carrier backward, which ejects the spent cartridge and loads a fresh cartridge. A gas piston system keeps the hot gas separate from the bolt carrier assembly.
Gas piston systems keep the hot gases away from the bolt carrier assembly, which keeps it cool and safer to handle. They are also easier to clean and disassemble. However, they tend to cost more.
According to some firearm experts, gas piston AR-15s are moderately less accurate than direct impingement weapons. Therefore, they are more suited for recreational shooting than competitive shooting. Direct impingement weapons are also better suited for fitting suppressors.
3. Receiver Material
A firearm receiver is the primary/central part that integrates all other components of the firearm. The receiver can be analogized to the chassis of an older car. According to U.S. federal law, the receiver is the firearm; all other parts are accessories.
The receiver's material will affect both the durability and weight of the finished firearm. In inexpensive or "budget" AR-15s, the receiver will typically be made of less expensive materials like aluminum or stamped steel. Stamping is typically done with sheet metal and produces a less expensive but weaker component.
Expensive AR-15 receivers will typically be cast or milled from either high carbon or stainless steel. However, some use cast or milled aluminum alloy. Cast and milled receivers are made of thicker and generally stronger metal. They can be made with more intricate design details.
4. Included Accessories
AR-15s are based on an enormously successful firearm produced for the U.S. military, the M16. While the early career of the M16 was, at best, "spotty," decades of development have forged it into a world-class weapon. One of the keys to its eventual success has been its modular design, and the AR-15 continues that legacy.
Many AR-15 owners attest to having "built their own firearms." What they actually did was buy off-the-shelf components and assembled them according to manufacturer manuals. In fact, most AR-15 buyers buy off-the-shelf weapons and accessorize as they please. And there is a wide variety of accessories available.
If you buy an upmarket "prestige" AR-15, much of the sale price will pay for included accessories.
Budget AR-15s typically ship with iron sights, 30-round magazines, and stocks made of plastic or other synthetic materials.
5. Supply And Demand
In a market-based economy, the primary factor that theoretically affects the cost of goods is supply and demand. In short, how much potential buyers are willing to spend.
Manufacturers and their suppliers determine the supply of firearms. In general, they try to predict demand throughout the year and produce just enough to meet the demand.
The demand for AR-15s and other popular firearms is far more variable. It is strongly affected by current events and the political climate of the U.S. In times of national crisis, firearm sales increase substantially.
Case-in-Point: The Covid-19 pandemic disrupted the supply of firearms while increasing demand. But at the same time, the major firearm manufacturers laid off their workforces to save money during what ended up being a long-anticipated recession.
The one-two punch of increased demand and decreased supply will cause firearm prices to increase, at least in "brick and mortar" gun shops.
To see the most popular recommended firearm accessories available on Amazon, just click here.
Overview of AR15 Style Firearms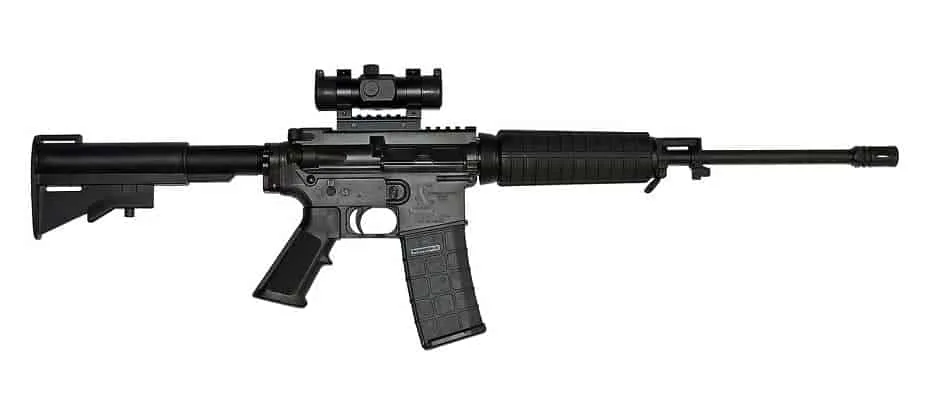 Below is a table of 10 AR-15-style firearms from across the price range. The information in this table was taken from Palmetto State Armory. The prices listed are the usual prices when the weapons are not on sale.
The weapons in this list were selected purely to illustrate differences between AR-15-type firearms at various points in the price range.
Related 7 Best AR-15s for SHTF.
Featured Firearms Examined
Here we will elaborate on the firearms featured in the table above.
Mossberg MMR Carbine
The least expensive (not counting current sale discounts) AR15-type rifle available from Palmetto State Armory is the Mossberg MMR Carbine.
It features a free-floating 16.25" (41.27 cm) barrel, a direct-impingement gas system, an M-LOK handguard, and a six-position stock. PSA offers MMR Carbines that use either Remmington 223 or NATO 5.56X45mm (0.21 x 1.77 in).
Reviewers have called the Mossberg MMR one of the best budget AR15s on the market.
PSA Moe Shockwave
Palmetto State Arms produces a wide variety of budget AR-15s that challenge the value of more expensive or prestigious firearms. Beginning as low as $729.99, the PSA Moe Shockwave is available with several barrel lengths and chamber calibers.
The Moe Shockwave model we've chosen to spotlight for this article includes a 7.5" (19.05 cm) barrel, a forged aluminum receiver, and a free-floating 7-inch (17.78 cm) handguard. Plus, it is chambered for the venerable NATO 5.56 cartridge.
S&W M&P15 Sport II
One of the most popular AR-15 sporting rifles currently on the market is the Smith & Wesson M&P15 Sport II. "M&P" stands for "Military and Police," although no military currently uses this firearm. The M&P15 is available with either a direct impingement or gas piston operating system.
Interestingly, the U.S. Internal Revenue Service's Criminal Investigation Division is one of the official government users of the M&P15.
When you buy this gun, you get a 16-inch (40.64 cm) barrel, six-position CAR folding stock, a folding Magpul (MBUS) rear sight paired with an adjustable A2 post front sight, 30 round magazine, chambered for NATO 5.56 rounds. A similar configuration is available directly from Smith & Wesson for a lower price.
Springfield Saint Victor
The time-honored Springfield Armory started as the premier small arms manufacturer for the U.S. military, and in recent decades has branched out into commercial civilian firearms.
The Springfield Saint Victor features a forged aluminum receiver, Bravo Company furniture, spring-loaded flip-up sights, and is chambered for the NATO 5.56X45 cartridge. The particular model we viewed is finished in O.D. green.
ArmaLite M-15 Tactical
ArmaLite invented the AR-15 type firearm and continues to produce weapons for the military, law enforcement, and civilian market. These weapons have come a long way since the M16's rocky start.
The ArmaLite M-15 Tactical features an 18 inch (45.72 cm) 1:8 twist barrel, a military stand 1913 accessory rail, a two-stage precision trigger, and a tactical black finish. Unfortunately, it is only available in a right-handed configuration.
Lead Star Arms Barrage
Lead Star Arms, a subsidiary of the larger Palmetto State Armory company, specializes in producing lightweight competition-ready firearms. The Lead Star Arms Barrage is a surprisingly lightweight (5.2 pounds) skeletonized AR-15-style pistol.
It ships from Palmetto State Arms with a standard 30-round magazine, a 10.5-inch (26.67 cm) barrel, a milled aluminum receiver, direct gas impingement operating system, and is chambered for .300 AAC Blackout cartridges.
According to the manufacturer's website, the Lead Star Arms Barrage can be used in a competition straight out of the box.
Daniel Defense DDM4V11 Pro
Daniel Defense is represented on this list with the DDM4V11 Pro competition rifle. Rather than casual recreational shooters, the DDM4V11 Pro is marketed toward competitive marksmen who intend to dominate multi-gun matches.
The DD4V11 Pro is chambered for NATO 5.56x45mm (0.21 x 1.77 in) cartridges and features an 18-inch (45.72 cm) barrel, four accessory rails (12, 3, 6, and 9 o'clock positions), a Daniel Defense brand 30 round magazine, a brand-new Muzzle Climb Mitigator gas system, and a tactical black finish.
LWRC IC-SPR Automatic
Formerly called "Land Warfare Resources Corporation," LWRC International is a subsidiary of the defense contractor CAGE. LWRC International moved into the commercial civilian firearms market in 2006.
You get a fully ambidextrous forged steel receiver, a 30+1 round bespoke magazine, an LWRCI-patented gas-piston operating system, a 16.1-inch (40.89 cm) fluted NiCorr-treated barrel, and several other LWRCI brand accessories.
The IC-SPR is available chambered for either Remmington .223 or NATO 5.56x45mm (0.21 x 1.77 in).
CZ-USA Bren 2 MS
CZ-USA (Czech Arms USA) is the Kansas City, MO, based American subsidiary of the Czech arms manufacturer "Česká zbrojovka Uherský Brod," which translates to "Czech Armory Hungarian Ford."
The CZ-USA Bren 2 M.S. is a lightweight semi-automatic machine pistol built on an AR-15 derived platform.
It is built around an aluminum and carbon fiber ambidextrous receiver and features a gas-piston operating system, 11.14-inch (28.29 cm) barrel, adjustable folding sights, and is chambered for NATO 5.56×45 mm ((0.21 x 1.77 in) cartridges.
If this configuration does not suit your needs, the CZ-USA Bren 2 M.S. is available with a wider selection of barrel lengths, accessories, and chambers from CZ-USA's website.
SIG Sauer MCX Rattler
The SIG Sauer MCX Rattler is by a wide margin the most expensive AR-15 type firearm available from Palmetto State Arms. The manufacturer describes it as a compact semi-automatic firearm that can be easily concealed and quickly deployed.
The MCX Rattler features a 5.5-inch (13.97 cm) barrel, a free-floating handguard, and a side-folding pivot contour brace. It ships from Palmetto State Arms without an included sight.
Frequently Asked Questions
Is an AR-15 Worth the Money?
An AR-15 is worth it if you are a fan of sport shooting, but it is not generally useful for hunting or home defense. If you are going to buy an AR-15, a budget firearm is probably the way to go.
The modular nature of an AR-15-type firearm makes it possible to accessorize a low-priced weapon into a world-class competition shooter or hunting rifle.
Can Civilians Own AR-15?
There are no federal or state laws banning ownership of AR-15s by civilians, provided they are left in a semi-automatic state. Nevertheless, some states require special licensing and training.
What Makes an AR-15 Pistol Illegal?
There are currently no federal or state bans on AR-15-style pistols. However, there is a $200 federal stamp tax applied to short-barreled firearms of this type.
"Pistol," in this case, means a firearm with a barrel shorter than 16 inches (40.64 cm). According to the outdated federal classification system, a "rifle" or "long gun" must have a barrel longer than 16 inches (40.64 cm).
The Legality of Carrying an AR-15 in Your Car
It is not illegal to carry an AR-15 in your car. While some states require a concealed weapons permit to keep an AR-15 out of sight in your car, there are no federal or state bans against carrying an AR-15 in plain sight and unloaded.
Can You Legally Build an AR-15?
It is completely legal to build AR-15s from kits. Furthermore, unserialized receivers called "80% lowers" are both legal and widely available. However, law enforcement can question you for having such a weapon. Moreover, the gun will be untraceable if it goes missing, which may have legal ramifications.
What States Are AR-15s Illegal?
AR-15 style rifles are not currently illegal in any American state or territory. Assault Weapons Bans typically only ban fully automatic weapons or firearms fitted with pistol grips. Furthermore, California's 32-year-old Assault Weapons Ban was overturned in June 2021.
What Does the "15" Mean in AR-15?
AR-15 stands for "ArmaLite Rifle Model 15 inch (38.1 cm). It is the civilian version of the military M16 and was designed based on its predecessor, the AR-10. The new model is lighter and fires high-velocity, small-caliber cartridges.
What Is the Difference Between M&P 15 and AR-15?
The M&P 15 is a type of AR-15 produced by Smith & Wesson, introduced in 2006. The M&P 15 is marketed to law enforcement and commercial customers. It looks more like a military specification M-16 than the current incarnation of the ArmaLite AR-15 does.
Bottom Line
Like any other consumer good, the price of an AR-15-type firearm is influenced by several product characteristics and market forces. Under normal circumstances, they are available from most physical firearms stores and internet-based distributors. However, the ongoing COVID-19 pandemic has disrupted the supply and driven prices up.
So head over to the armory, and I'm sure you can find an AR that fits your budget.
Thanks for reading.
For more, check out How To Choose the Best Rifle for Target Shooting.
Hey, I'm Jim, and the author of this website. I have always been interested in survival, fishing, camping, and anything in nature. In fact, while growing up, I spent more time on the water than on land! I am also a best-selling author and have a degree in History, Anthropology, and Music. I hope you find value in the articles on this website. Feel free to contact me if you have any questions or input!